Picking Lotus
Xiao Gang (a.k.a. Emperor Jianwen di, reign 549-551) of the Liang dynasty
Picking Lotus
Late sun warms the deserted jetty,
Picking lotuses by evening's glow.
Wind rising; the lake crossing, hard.
So many lotuses, undiminished by the harvest.
The oar moves, the petals fall.
The boat sways, the white egret takes flight.
Lotus silk entwines about our wrists,
Water caltrop pulls at our sleeves.
蕭綱 (梁簡文帝)
採蓮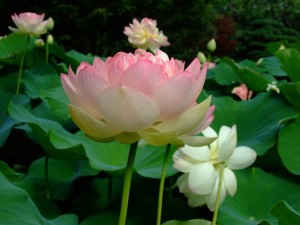 晚日照空磯
採蓮承晚暉
風起湖難渡
蓮多摘未稀
櫂動芙蓉落
船移白鷺飛
荷絲傍遶腕
菱角遠牽衣
Source
Xu Ling 徐陵 (507-583), comp., Yütai xinyong 玉臺新詠 (New Songs from Jade Terrace, 6th century), juan 卷 7.