A Song of Drinking Tea to Chide the Envoy Cui Shi
Jiaoran (730-799 A.D.) of the Tang dynasty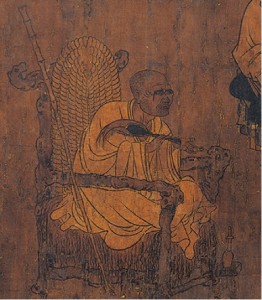 A Song of Drinking Tea to Chide the Envoy Cui Shi
The man from Yüe presented me with Shan River tea;
Picking the golden buds, brewing them with a bronze brazier.
In a plain, snow-white porcelain, a fragrant, misty froth.
Does this not transcend the elixir of the immortals?
The first drink washes away confusion and sleep –
a clear, bright feeling fills Heaven and Earth.
The second drink purifies my spirit –
a sudden, flying rain lightly scatters the dust.
The third drink simply achieves the Dao –
no need to fuss about banishing troubles and cares.
Of this pure and lofty thing, the world is unaware.
People drinking wine only deceive themselves:
Fretting about the night Bi Zhuo lay soused under the wine vat;
Laughing at the time Tao Qian lay drunk under the hedge.
Lord Cui drinks tea relentlessly, as if
Insanely singing a single tune, shocking everyone.
Who knows the true Way of Tea?
Only Danqiu attained this.
唐皎然
飲茶歌誚崔石使君
越人遺我剡溪茗
採得金牙爨金鼎
素瓷雪色縹沫香
何似諸仙瓊蕊漿
一飲滌昏寐
情來朗爽滿天地
再飲清我神
忽如飛雨洒輕塵
三飲便得道
何須苦心破煩惱
此物清高世莫知
世人飲酒多自欺
愁看畢卓瓮間夜
笑向陶潛籬下時
崔侯啜之意不已
狂歌一曲驚人耳
孰知茶道全爾真
唯有丹丘得如此
Source
Cao Yin 曹寅 (1658-1712 A.D.) and Peng Dingqiu 彭定求 (1645-1719 A.D.) et al., comps, Qüan Tangshi 全唐詩 (Complete Poetry of the Tang Dynasty, 1705), ch. 821, no. 61.
Figure
Yan Liben 閻立本 (ca. 601-673 A.D.), attributed to
The monk Biancai  辯才(flourished circa 600-649 A.D.)
Xiao Yi zuan Lanting tu 蕭翼賺蘭亭圖 (Xiao Yi Stealing the Orchid Pavilion Preface)
Tang dynasty
Handscroll: ink and color on silk, detail
National Palace Museum, Taipei