Guanyin Spring at Tiger Hill
Shen Zhou of the Ming dynasty
Sitting beneath pines quietly sipping tea brewed with water drawn from the Third Spring at Tiger Hill under a waning moon
In the evening, I enquire at the monk's room where to look for a fine mountain stream.
His attendant guides me to a poor village vendor:
This is not in keeping with Master Lu's tea brewing method.
Firstly, take and light the bamboo tallies of Master Su.
The stone tripod boils, the draft rousing fine green waves.
See how the porcelain cup holds the moon like a golden bauble!
Beneath the long pines, sips fill with soft songs.
Without poetry, the flavor only withers.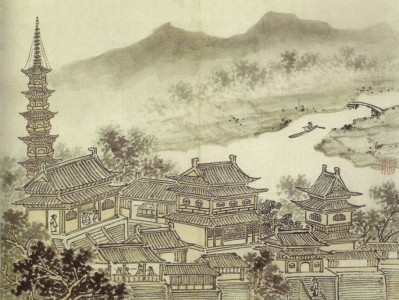 明 沈周
月夕汲虎丘第三泉煑茶坐松下清啜
夜扣僧房覔磵腴
山童道我吝村沽
未傳盧氏煎茶法
先執蘇公調水符
石鼎沸風憐碧縐
磁甌盛月看金鋪
細吟滿啜長松下
若使無詩味亦枯

Source
Shen Zhou 沈周 (1427-1509), "Yüexi ji Huqiu Disanqüan zhucha zuo songxia qingchuai
月夕汲虎丘第三泉煑茶坐松下清啜 (Sitting beneath pines quietly sipping tea brewed with water drawn from the Third Spring at Tiger Hill [in the eighth lunar month] under a waning moon)," Shitian shixüan 石田詩選, ch. 2 in Chen Binfan 陳彬藩 and Yü Yüe 余悅, eds., Zhongguo cha wenhua jingdian 中國茶文化經典 (Beijing: Guangming ribao chuban she, 1999), p. 408.
Figure
Shen Zhou (1427-1509)
Twelve Views of Tiger Hill : The Thousand Buddha Hall and the Pagoda of the Cloudy Cliff Monastery
Leaf seven from an album of twelve leaves
Ink and color on paper
The Cleveland Museum of Art