Miscellaneous Poem
Wang Wei of the Liu Song dynasty
Miscellaneous Poems, number one of two
Alone and desolate, I close the high chambers,
Silent and empty, the grand halls.
Waiting for my lord who will not return,
I catch myself and go at once to tea.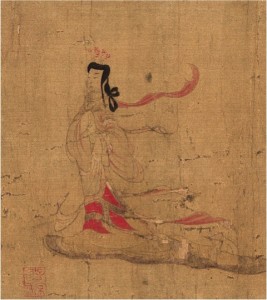 王微
雜詩二首 其一
寂寂掩高閣
寥寥空廣廈
待君竟不歸
收领今就檟
Source
Wang Wei 王微 (415-453), "Zashi 雜詩 (Miscellaneous Poem)," Chajing 茶經 (Book of Tea, 780 A.D.), Lu Yü 陸羽 (trad. 733-804 A.D.), comp. (Baichuan xüehai 百川學海, ed., 1273 A.D.), juan 3, part 7, p. 7b.
Figure
Gu Kaizhi 顧愷之 (ca. 345-406), attributed
Nüshi zhentu 女史箴圖 (The Admonitions of the Instructress to the Court Ladies), detail
Handscroll: ink and colors on silk
The British Museum
London