Inscription for the Gentleman of Principle
Sheng Yong of the Ming dynasty
Inscription for the Gentleman of Principle
Shaped like the vault of Heaven and the square of Earth:
Bamboo sheathed metal, bamboo wrapped clay.
Within, a lively fire burns,
Bearing sounds of waves on the river Xiang.
One drop of sweet dew
Cleanses my poetic core.
A pure wind sweeps beneath my sleeves,
Carrying me beyond the realm and into the Void.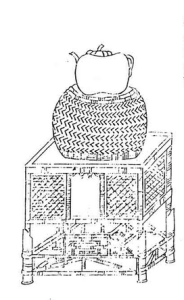 明 盛颙
苦節君銘
肖形天地
匪冶匪陶
心存活火
聲帶湘濤
一滴甘露
滌我詩腸
清風兩腋
洞然八荒
Source
Sheng Yong 盛颙 (1418-1492), "Kujie jun ming 苦節君銘 (Inscription for the Gentleman of Principle, 1478)" from Qian Chunnian 錢椿年 (active ca. 1530-1535) and Gu Yuanqing 顧元慶 (1487–1565), Chapu 茶譜 (Treatise on Tea, 1541) in Zhongguo lidai chashu huibian jiaozhu ben 中國歷代茶書匯編校注本 (Annotated Compilation of Tea Books of Dynastic China), Zheng Peikai 鄭培凱 and Zhu Zizhen 朱自振 (1934–present), comps. (Hong Kong: Commercial Press, 2014), p. 181.