New Imperial Tribute Tea from Huzhou
Zhang Wengui of the Tang
New Imperial Tribute Tea from Huzhou, ca. 841
On a spring outing, returning tipsy by phoenix carriage,
Her coiffed peony blossoms teasing bobbled ornaments.
Fording the inlet, the faerie belle peeps through the screen
To announce the arrival of russet buds from Wuxing.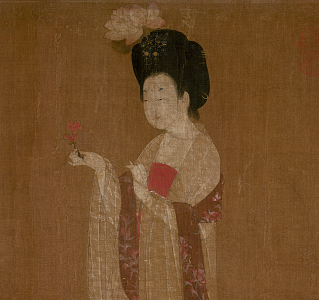 唐 張文規
湖州貢焙新茶
鳳輦尋春半醉回
僊娥進水御簾開
牡丹花笑金鈿動
傳奏吳興紫筍來
Source
Zhang Wengui (active 830–853), "Huzhou gongbei xincha 湖州貢焙新茶 (New Imperial Tribute Tea from Huzhou, ca. 841) in Cao Yin 曹寅 (1658-1712 A.D.) and Peng Dingqiu 彭定求 (1645-1719 A.D.) et al., comps, Qüan Tangshi 全唐詩 (Complete Poetry of the Tang Dynasty, 1705), ch. 366, no. 11.
Figure
Zhou Fang (ca. 730-800)
Court Ladies Wearing Flowered Headdresses, 8th century
Handscroll: ink and color on silk
Liaoning Provincial Museum